2018 Generic Drug Access & Savings in the U.S.
Overview
Access to lower prescription drugs is critical to America's patients. Biosimilar and generic drugs play a critical role and creating this access, saving patients and the public hundreds of billions of dollars annually, and almost two trillion dollars over the last decade. Both offer promise of lower costs and competitive treatment options for patients.
Did You Know?
The 12 years of market exclusivity granted by the U.S. to brand biologic developers is the longest monopoly period of any country in the world
The average copay for a generic drug is just $6.06
9 out of 10 prescriptions filled in the U.S. are generic medicines
Atorvastatin, the generic version of Lipitor, saved Medicare more than $20 billion 

in one year

 alone
Unfortunately, market obstacles, such as anti-competitive tactics, misguided government policies and rampant misinformation campaigns, risk patient access to lifesaving biosimilars and generics.
Now in its tenth edition, this year's "Generic Drug Access & Savings in the U.S." report released by AAM shares insight into the impact of biosimilars and generics to date and provides a critical look at how brands' anti-competitive practices can negatively impact patients.
Social Media Toolkit
We invite you to share this report with your colleagues, organizations, partners and members. Increasing patient access and lowering prescription drug costs is critical to patients and essential to the health care system, so just click on the banner above to visit the AAM report landing page and please use the social content below when sharing on social media.
Images for Sharing: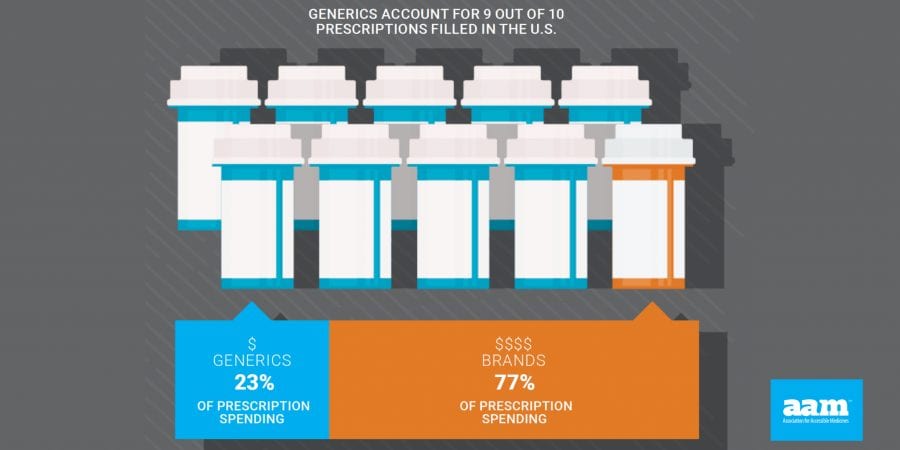 Suggested Social Media Posts
To rein in the soaring cost of prescription drugs, we need increased #access to #generic and #biosimilar medicines. @AccessibleMeds & @BiosimsCouncil #GRxSavingsReport update lays out WHY. #drugprices http://bit.ly/RxAccessReport
Just last year, #generic drugs saved American patients $265 billion, but those savings are jeopardized by dangerous brand efforts to undermine patient access. @AccessibleMeds & @BiosimsCouncil #GRxSavingsReport #drugprices http://bit.ly/RxAccessReport
#Biosimilars have the promise to increase the quality of life for countless American patients and save billions in health care costs over the next five years. New @AccessibleMeds & @BiosimsCouncil #GRxSavingsReport shares how. #drugprices http://bit.ly/RxAccessReport
About the Biosimilars Council
The Biosimilars Council, a division of the Association for Accessible Medicines (AAM), works to ensure a positive environment for patient access to biosimilar medicines. The Biosimilars Council is a leading source for information about the safety and efficacy of more affordable alternatives to costly brand biologic medicines. Areas of focus include public and health expert education, strategic partnerships, government affairs, legal affairs and regulatory policy. More information is available on our about page.
About AAM
AAM is driven by the belief that access to safe, quality, effective medicine has a tremendous impact on a person's life and the world around them. Generic and biosimilar medicines improve people's lives, improving society and the economy in turn. AAM represents the manufacturers and distributors of finished generic pharmaceuticals and biosimilars, manufacturers and distributors of bulk pharmaceutical chemicals, and suppliers of other goods and services to the generic industry. Generic pharmaceuticals are 90 percent of prescriptions dispensed in the U.S. but only 23 percent of total drug spending. Additional information is available at www.accesiblemeds.org.